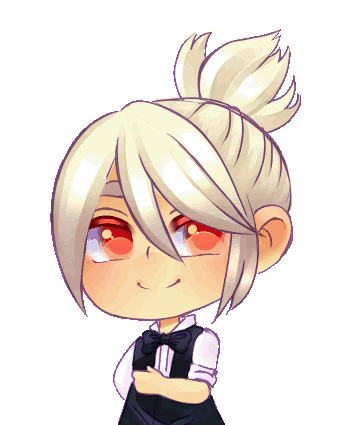 Alkanimate
(commission closed)
I specialize in animating with live2d cubism and physics setting
---
- 30$+ depending on the complexity
- If you commission an emote artist then please let them work with me, so i can have proper layers for animating and I will only charge animation fee.
- If you want to draw your own emote for me to animate, then contact me, we can work together. I will only charge animation fee
- Recommended emote artists who i worked with
- Final products Include at least 3 sizes ( 28px, 56px, 112px ) that suit your purpose of using the emote ( bttv / discord / twitch).
Emotes requirement for different plattforms
- BTTV : 112 x 112 px no max size limited
- Discord server : lower than 256 kb
- Discord stickers : apng / png / 320 px / lower than 500 kb
- Twitch : 112 - 4096 px / less than 60 frames / lower than 1mb for auto resize / less than 512 kb for 28 , 56 , 112 px
Art: https://twitter.com/taximals_art
Art: https://twitter.com/hexyraart
TOS
---
(Last updated: 18-07-2022)
* Currency used: USD
You agree to the following:
terms and conditions outlined on this pageGeneral terms of service1. I don't draw!2. Revisions are possible but should be used with caution, too many minor revisions will prolong the project and mentally drain the artist in long run, which might reduce the overall quality.3. Prices and TOS are subject to change over time.4. I reserve the right to refuse a commission.5. I reserve the right to stream and showcase my work on platforms ( nda work is negotiable ).6. You ensure that you are above 18 and have enough funds to purchase digital goods. You will not issue a chargeback for the commission in any circumstance.7. When the model is already far in the process, revisions for details of earlier stages may incur additional fee
Payment8. Waitlist fee will be following: 50$ ( chibi/scuff/animal) / 100$( half body) / 150$ ( fullbody) and will be deducted from full price.9. Psd file examining fee is 10$ , which will be deducted from the full price.10. Full price will be quoted after psd file is examined.11. 50-100% upfront payment must be made before the rigging starts and within 1 week after the invoice is sent.12. The commission is a rush order (30% of commission total)13. NDA commission (20% of commission total) .14. Additional commercial fee : +150$ for twitch partner , +100$ for twitch affiliate twitch affiliate with 30 average viewers , +50$ for twitch affiliate.15. Waitlist fee is non refundable.
Rigger responsibilities16. Keeping in touch with clients and respond within 2-3 days or informing client if there are hurdles that will obstruct the communication.17. Quoting price appropriately with the efforts , quality, demands, market rate and complexity of the model.18. Abiding by own TOS.
Client responsibilities19. Be informed of the rigger's capability and set an approriate expectation of the works.20. Keep in contact with me through out the rigging process.21. The client is responsible for providing clear and accurate image references and/or textual references.22. Specific demands should be discussed and provided with reference, revisions on details without a prior reference will incur additional fee.23. Credit the artist and rigger.
Refund policyif you want to cancel the order, the refund policy applies:24. Psd examine and waitlist fee won't be refundable25. After the initial down payment: original payment will be refunded after deducting the Payment service fees (ex : paypal fee) , PSD processing fees and operational / communication work cost ( 10% of the total project cost is not refundable)26. After the rigging starts ( I will inform you ): no refund beyond this point.27. If rigger must cancel commission due to personal reason, full price will be refunded.
Privacy Terms27. No personal information will be shared with a third party, unless for legal purposes.28. Project files ( model and rigging files ) will only be shared among the artist , rigger and/or client, and won't be shared or distributed to another party without approval.29. Model file won't be saved or shared to another party if client doesn't want to go through psd processing stage.
Contact to discuss, you can see my works in showcase